100 Glenns Creek Road
Frankfort, KY 40601
502- 564-7647
Monday – Friday 8:00am – 4:30pm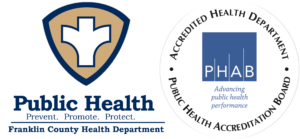 Monday – Thursday
8:00am – 4:30pm
By Appointment only!
Monday – Friday
12:00pm – 3:00pm 
We will manage as many of our WIC patients via telephone services as much as possible.
WIC participants need to call before they show up.
We will continue to provide initial WIC Certifications to ensure these moms and children get their necessary nutrition.
Emergency immunizations
STD testing and treatment 
HIV treatment
Family Planning 
WE DO NOT PROVIDE DAILY COVID-19 TESTING
Persons with disabilities who require alternative means of communication for program information (e.g. Braille, large print, audiotape, American Sign Language, deaf, hard of hearing or have speech disabilities, etc.), should contact the Franklin County Health Department.  Additionally, program information may be made available in languages other than English.
The Franklin County Health Department is an EEO/AA/Title VI/Title IX/Section 504/ADA/ADEA institution in the provision of its education and employment programs and services. All qualified applicants will receive equal consideration for employment without regard to race, color, national origin, religion, sex, pregnancy, marital status, sexual orientation, gender identity, age, physical or mental disability, genetic information, veteran status, and parental status.   
If you have questions or comments about services, providing feedback, website content, website layout, reporting broken links please contact the webmaster.