100 Glenns Creek Road
Frankfort, KY 40601
502- 564-7647
Monday – Friday 8:00am – 4:30pm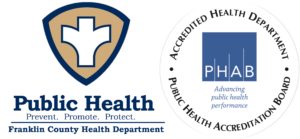 Franklin County Board of Health
The Franklin County Health Department is governed by a 12-member  Board of Health with representation from around the county. The board is comprised of the county judge-executive, physicians, nurses, dentists, veterinarians, engineers, optometrists, and citizen members. Among others, see KRS 212.020 & 902 KAR 8:150.
Board Resources
 If you would like to be considered for board appointment, read here: Statute that Governs Health Board Appointments; if you meet the qualifications you may apply by completing and submitting: Board of Health Nomination Form
FY 20 MEMBERS | REPRESENTATION
Dr. Charles Bradshaw, DMD, Chair | Dentist Representative
Dr. Wayne Morris, RPH, Vice-Chair | Pharmacist Representative
Dr. Paula Hoover, OD, Treasurer | Optometrist Representative
Houston Wells, Judge Executive | County Judge
Executive Joseph F. Grider, PE | Engineer Representative
Dr. Stephen K. Hall, MD | Physician Representative
Jane Bartram, APRN | Nurse Representative
Constance E. Morgan, RN | Consumer Representative
Dr. Suresh Saxena, MD | Physician Representative
Elle Travis | Fiscal Court Representative
Arba Kenner, MD | Physician Representative
Dr. Denis King, DVM | Veterinarian Representative
Persons with disabilities who require alternative means of communication for program information (e.g. Braille, large print, audiotape, American Sign Language, deaf, hard of hearing or have speech disabilities, etc.), should contact the Franklin County Health Department.  Additionally, program information may be made available in languages other than English.
The Franklin County Health Department is an EEO/AA/Title VI/Title IX/Section 504/ADA/ADEA institution in the provision of its education and employment programs and services. All qualified applicants will receive equal consideration for employment without regard to race, color, national origin, religion, sex, pregnancy, marital status, sexual orientation, gender identity, age, physical or mental disability, genetic information, veteran status, and parental status.   
Franklin County Health Department - HIPAA Privacy and Disclosure Statement
If you have questions or comments about services, providing feedback, website content, website layout, reporting broken links please contact the webmaster.