100 Glenns Creek Road
Frankfort, KY 40601
502- 564-7647
Monday – Friday 8:00am – 4:30pm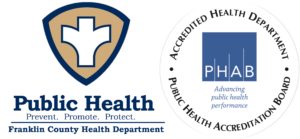 Foodborne illnesses are largely preventable and food handling safety risks are more common than people think.  In order to make sure that our citizens don't become a statistic, the Franklin County Board of Health requires that ALL FOOD HANDLERS and MANAGERS complete a course in food safety and maintain a valid and current certification. 
A basic Food Handler Certification course is required for all persons working in Food Service establishments in Frankfort and Franklin County. The health department will require all food service employees to maintain a valid and up-to-date certification. During routine inspections, follow-up inspections and complaint investigations the Environmentalist shall require proof of certification. The manager should keep copies of staff certifications as well as their own. An official follow-up notification will be issued to the establishment for failure to obtain the required training. The establishment will have 30 business days to complete the required training. Failure to do so will result in an Official Notice for a Hearing to the establishment.
**Other Food Handler Trainings, that will be acceptable are NRA ServeSafe training, other Kentucky county health department food handler courses,  as well as others to be reviewed and approved by this office. Those certifications as well as ours shall be up to date, no more than 2 years old.
New establishments will be granted a 60-day window for new staff to be trained. Newly hired employees of existing facilities will be allowed 30 days from date of hire to receive training. Our certification is valid for 2 years.

Our "online" Food Handler Certification Course consists of a 70-minute audio-visual & interactive internet course.  The course is offered in English, Spanish, Korean, Vietnamese and Mandarin.  The user can start and stop the course as needed and when reentering is brought back to where they left off.  The user must pass a test at the end of course thus allowing them to print their certification card from home.  
The cost for this is course is $15.00.  To proceed and take the "online" course, CLICK HERE.
In accordance with federal civil rights law and U.S. Department of Agriculture (USDA) civil rights regulations and policies, this institution is prohibited from discriminating on the basis of race, color, national origin, sex (including gender identity and sexual orientation), disability, age, or reprisal or retaliation for prior civil rights activity.
Program information may be made available in languages other than English. Persons with disabilities who require alternative means of communication to obtain program information (e.g., Braille, large print, audiotape, American Sign Language), should contact the Franklin County Health Department or the responsible state or local agency that administers the program or USDA's TARGET Center at (202) 720-2600 (voice and TTY) or contact USDA through the Federal Relay Service at (800) 877-8339.
To file a program discrimination complaint, a Complainant should complete a Form AD-3027, USDA Program Discrimination Complaint Form which can be obtained online at: https://www.usda.gov/sites/default/files/documents/USDA-OASCR%20P-Complaint-Form-0508-0002-508-11-28-17Fax2Mail.pdf, from any USDA office, by calling (866) 632-9992, or by writing a letter addressed to USDA. The letter must contain the complainant's name, address, telephone number, and a written description of the alleged discriminatory action in sufficient detail to inform the Assistant Secretary for Civil Rights (ASCR) about the nature and date of an alleged civil rights violation.
The completed AD-3027 form or letter must be submitted to USDA by:
1. Mail: U.S. Department of Agriculture Office of the Assistant Secretary for Civil Rights 1400 Independence Avenue, SW Washington, D.C. 20250-9410; or
2. Fax: (833) 256-1665 or (202) 690-7442; or
3. Email: [email protected]
The Franklin County Health Department is an EEO/EOP/AA/Title VI/Title IX/Section 504/ADA/ADEA institution in the provision of its education and employment programs and services. All qualified applicants will receive equal consideration for employment without regard to race, color, national origin, religion, sex (including gender identity and sexual orientation), pregnancy, marital status, sexual orientation, gender identity, age, physical or mental disability, genetic information, veteran status, and parental status.   
Franklin County Health Department - HIPAA Privacy and Disclosure Statement
If you have questions or comments about services, providing feedback, website content, website layout, reporting broken links please contact the webmaster.