100 Glenns Creek Road
Frankfort, KY 40601
502- 564-7647
Monday – Friday 8:00am – 4:30pm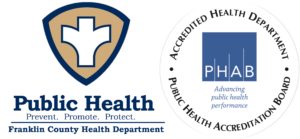 According to the American Diabetes Association, "Diabetes self-management education (DSME) is the ongoing process of facilitating the knowledge, skill, and ability necessary for diabetes self-care.  This process incorporates the needs, goals, and life experiences of the person with diabetes and is guided by evidence-based standards.
The overall objectives of DSME are to support informed decision-making, self-care behaviors, problem-solving and active collaboration with the health care team and to improve clinical outcomes, health status, and quality of life.
The Franklin County Health Department is pleased to offer DSME Classes to the public.  It is presented by a Certified Diabetes Educator and Registered Dietitian and Registered Nurse.  Attendance at the entire session is highly encouraged.
The material covered during the 8 hour sessions will include the following: healthy coping for diabetes, monitoring & management, acute complications, nutrition and physical activity, preventing long term complications and sick day management.
For more information or to inquire about class dates and times, please contact: Debbie Bell at 564-5559
Persons with disabilities who require alternative means of communication for program information (e.g. Braille, large print, audiotape, American Sign Language, deaf, hard of hearing or have speech disabilities, etc.), should contact the Franklin County Health Department.  Additionally, program information may be made available in languages other than English.
The Franklin County Health Department is an EEO/AA/Title VI/Title IX/Section 504/ADA/ADEA institution in the provision of its education and employment programs and services. All qualified applicants will receive equal consideration for employment without regard to race, color, national origin, religion, sex, pregnancy, marital status, sexual orientation, gender identity, age, physical or mental disability, genetic information, veteran status, and parental status.   
Franklin County Health Department - HIPAA Privacy and Disclosure Statement
If you have questions or comments about services, providing feedback, website content, website layout, reporting broken links please contact the webmaster.