100 Glenns Creek Road
Frankfort, KY 40601
502- 564-7647
Monday – Friday 8:00am – 4:30pm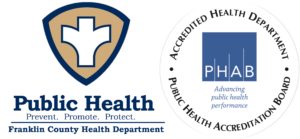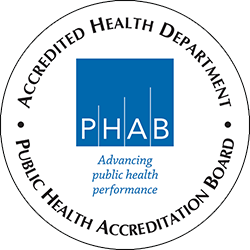 The Franklin County Health Department became initially awarded 5-year accreditation by the Public Health Accreditation Board on February 28, 2013. FCHD became reaccredited in March 2019.  We are proud of our organization, board and staff on this momentous achievement. 
Accreditation showcases the commitment to community health across the local public health system, and demonstrates to the public and policy makers that the Health Department is achieving high standards in the work that it does internally and externally.
The Public Health Accreditation Board standards focus on population health – the health and health outcomes of the population that lives, works, and plays in our community. Throughout the process, we demonstrated how we address our community's public health needs, as well as our internal capacity to manage program operations.
Our Accreditation Team began work to identify documents meeting the PHAB standards. The documents were submitted to PHAB in April of 2012.  Our three site visitors reviewed our documents in 6 months and came for a site visit October 22-23, 2012. The Site Visit Team spent two days at Franklin County Health Department and held meetings with staff members, partners, and governance representatives to discuss how the Health Department meets the Public Health Accreditation Board standards. The site visitors also toured the Franklin County Public Health Center. We received word from PHAB of our five-year accredited status on February 27, 2013.
Examples of Health Department documentation submitted to PHAB:
·  Board of Health (BOH) minutes reviewing and approving policies.
·  Franklin County MAPP minutes reviewing local data and updating CHIP goals.
·   Kentucky food laws and regulations and FCHD enforcement of those laws and regulations.
·   Agency-wide policies and procedures.    
·   Emergency operations plans and procedures. 
One of the goals of the accreditation process is to identify our three greatest strengths and three greatest opportunities for improvement. The Site Visit Report describes the site visitors' findings in these areas. Strengths highlighted are strong community partnerships, model example of Community Health Improvement Plan (CHIP) and QI activities. Opportunities for improvement included funding, routine sharing of surveillance data with community partners and improving the analysis and exposition of local data.
Being accredited is a starting point for continuous improvement. In order to maintain accredited status, we will submit annual reports to PHAB describing how we are addressing our areas for improvement. After five years, FCHD became reaccredited in March 2019.  We are proud of our organization, board and staff on this momentous achievement.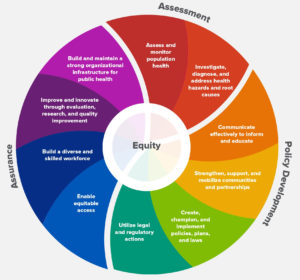 Essential Public Health Services (Revised, 2020)
The 10 Essential Public Health Services provide a framework for public health to protect and promote the health of all people in all communities.
Assess and monitor population health status, factors that influence health, and community needs and assets
Investigate, diagnose, and address health problems and hazards affecting the population
Communicate effectively to inform and educate people about health, factors that influence it, and how to improve it
Strengthen, support, and mobilize communities and partnerships to improve health
Create, champion, and implement policies, plans, and laws that impact health
Utilize legal and regulatory actions designed to improve and protect the public's health
Assure an effective system that enables equitable access to the individual services and care needed to be healthy
Build and support a diverse and skilled public health workforce
Improve and innovate public health functions through ongoing evaluation, research, and continuous quality improvement
Build and maintain a strong organizational infrastructure for public health
In accordance with federal civil rights law and U.S. Department of Agriculture (USDA) civil rights regulations and policies, this institution is prohibited from discriminating on the basis of race, color, national origin, sex (including gender identity and sexual orientation), disability, age, or reprisal or retaliation for prior civil rights activity.
Program information may be made available in languages other than English. Persons with disabilities who require alternative means of communication to obtain program information (e.g., Braille, large print, audiotape, American Sign Language), should contact the Franklin County Health Department or the responsible state or local agency that administers the program or USDA's TARGET Center at (202) 720-2600 (voice and TTY) or contact USDA through the Federal Relay Service at (800) 877-8339.
To file a program discrimination complaint, a Complainant should complete a Form AD-3027, USDA Program Discrimination Complaint Form which can be obtained online at: https://www.usda.gov/sites/default/files/documents/USDA-OASCR%20P-Complaint-Form-0508-0002-508-11-28-17Fax2Mail.pdf, from any USDA office, by calling (866) 632-9992, or by writing a letter addressed to USDA. The letter must contain the complainant's name, address, telephone number, and a written description of the alleged discriminatory action in sufficient detail to inform the Assistant Secretary for Civil Rights (ASCR) about the nature and date of an alleged civil rights violation.
The completed AD-3027 form or letter must be submitted to USDA by:
1. Mail: U.S. Department of Agriculture Office of the Assistant Secretary for Civil Rights 1400 Independence Avenue, SW Washington, D.C. 20250-9410; or
2. Fax: (833) 256-1665 or (202) 690-7442; or
3. Email: [email protected]
The Franklin County Health Department is an EEO/EOP/AA/Title VI/Title IX/Section 504/ADA/ADEA institution in the provision of its education and employment programs and services. All qualified applicants will receive equal consideration for employment without regard to race, color, national origin, religion, sex (including gender identity and sexual orientation), pregnancy, marital status, sexual orientation, gender identity, age, physical or mental disability, genetic information, veteran status, and parental status.   
Franklin County Health Department - HIPAA Privacy and Disclosure Statement
If you have questions or comments about services, providing feedback, website content, website layout, reporting broken links please contact the webmaster.