100 Glenns Creek Road
Frankfort, KY 40601
502- 564-7647
Monday – Friday 8:00am – 4:30pm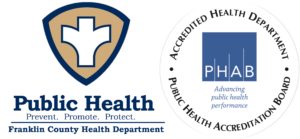 The Tobacco Use Cessation and Prevention Program aim is to improve public health by:
Preventing youth from starting to use tobacco

Encouraging people to stop using tobacco

Protecting our families, friends, and community from the dangers of secondhand smoke

Working with community leaders to encourage ways to protect the community from the hazards of tobacco use 
Tobacco Cessation Support and Education Classes
Quitting isn't easy and we're offering several options to help you along the way.  
The Freedom From Smoking Program is a REALISTIC and REASONABLE method to stop smoking!  The Program utilizes nicotine replacement therapy in the form of nicotine patches or other prescription medications to minimize nicotine withdrawal. 
Clean Indoor Air Ordinance
Secondhand smoke is a health hazard to everyone.  The Frankfort City Commissioners Office approved a Clean Indoor Air ordinance on July 24, 2006.  This ordinance provides a smoke free environment in most public buildings including but not limited to restaurants, bars, gas stations, banks, hotel lobbies and hallways, convenience stores, bingo parlors, pool halls, and bowling alleys.
Business Implementation Kit
A kit of materials to help businesses implement the Smoke Free Ordinance is available as by calling (502) 564-5559.  
For information on the specific content of the ordinance, questions regarding enforcement or to report a violation, please contact City Hall at (502) 875-8582. 
Persons with disabilities who require alternative means of communication for program information (e.g. Braille, large print, audiotape, American Sign Language, deaf, hard of hearing or have speech disabilities, etc.), should contact the Franklin County Health Department.  Additionally, program information may be made available in languages other than English.
The Franklin County Health Department is an EEO/AA/Title VI/Title IX/Section 504/ADA/ADEA institution in the provision of its education and employment programs and services. All qualified applicants will receive equal consideration for employment without regard to race, color, national origin, religion, sex, pregnancy, marital status, sexual orientation, gender identity, age, physical or mental disability, genetic information, veteran status, and parental status.   
Franklin County Health Department - HIPAA Privacy and Disclosure Statement
If you have questions or comments about services, providing feedback, website content, website layout, reporting broken links please contact the webmaster.