100 Glenns Creek Road
Frankfort, KY 40601
502- 564-7647
Monday – Friday 8:00am – 4:30pm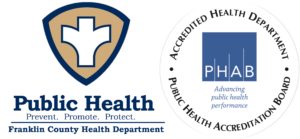 Plans Process and Review
The Franklin County Health Department requires submittal of plans only on facilities that we REGULATE such as:



 

Food Concession Stands
Foodservice
Bars
Vending machines
Retail Food establishments
Bed and Breakfasts
Retail Markets
Nursing Homes
Mobile Food units
Pushcarts
Produce Stands
Farmers Markets
Food processing or storage establishment 
Salvage food operations
Frozen food lockers

Caterers
food manufacturing and warehouses
Day-cares with food service
Boarding homes
Schools- Public and Private
Hotels/motels
Mobile Home Parks/RV parks/Campgrounds
Ear piercing studios
Tattoo studios
Body piercing studios
State Owned Confinement Facilities
Youth Camps
Swimming pools and spas
Beach Areas
Public Buildings- Recreational Facilities and Package Treatment Plants 
Step 1  
Determine if your facility is regulated, from the list above
Step 2 
 Submit Copy of Plans, and 20210114101223488 (1)

 

(Completed and attached)
     (Turned in during office hours Mon-Fri 8:00-9:30am) –

 

Wesley Clark
Step 3 
 All restaurant/food service or any food related regulated facilities listed above must have the form
plan review info sheet (Completed and attached) 
Step 4 
 Establishment must have our

 

review and approval

 

PRIOR

 

to sending to the Department of Housing, Building and Construction, Division of Plumbing
Step 5          
 

Obtain city/county municipal sewer grease trap requirements or sewer tap requirements and fees, please contact the City of Frankfort Sewer Department at 502-875-2448
*Fees for plan review at the Franklin County Health Department are set by the Franklin County Board of Health.  These fees are also based on whether the submittal is a New Construction or a renovation/addition to an existing establishment. 
All plans reviewed will be charged a $100.00 plan review fee.  Schools and youth camp plan reviews are fee exempt.
New Construction
4 complete sets of plans are required for new construction. You will receive one approved set of plans back; if you wish to have multiple sets of approved plans back you can submit more plans. Plus a 1 Site Utility Plan, which must show all underground utilities (sewer, septic tank, lateral lines, water, storm sewer, gas, grease trap, electric, etc.).
If plans show a sewer manhole, lift station, sewer extensions, tapping into a package treatment plant or a private water source, then 1 additional set of plans for Division of Water approval must be included.

Public swimming pools/spas or any Division of Water approval must include 5 complete sets.

All plans with construction being served by a private septic system MUST have a passing/approved site evaluation from the Franklin County Health Department (please see "Septic Systems" on the Environmental Services home page).  A site utility plan must be submitted with the site evaluation application.
Existing Structures
4 sets of plans required for existing plan approval.
State Plumbing Inspector
Local Approvals cannot be approved on: Day Care Centers, Nursing Homes, Schools and Hospitals or on buildings where there is a CHANGE OF USE and any structure requiring Division of Water approval.
If you are inquiring about the status or requirements for public building plans that the health department DOES NOT REGULATE,
please contact:
Kentucky Division of Plumbing
(502) 564-0397 

More Information:



Questions concerning plan process, plan review, Contact our Environmental Dept during office hours
Office Location:  851 East West Connector, Frankfort, KY 40601
Driving Directions: When using MapQuest, Google Maps, Yahoo Maps, OnStar, Etc
Use: 100 Moore Drive, Frankfort, KY 40601 Then turn Right for FCHD PHC Building
Office Hours:  8:00am – 9:30am
Phone Number: (502) 564 – 7382
Contact: Wesley Clark
The Division of Public Health Protection and Safety is located within the Dept. for Public Health and is the Division which supports local environmental health programs.  This Division has five branches that support environmental health activities and programs across the Commonwealth.   For more detailed information on our programs and services please visit the Division Homepage at:  http://chfs.ky.gov/dph/info/phps/   and   http://goo.gl/6Q3xgi
Persons with disabilities who require alternative means of communication for program information (e.g. Braille, large print, audiotape, American Sign Language, deaf, hard of hearing or have speech disabilities, etc.), should contact the Franklin County Health Department.  Additionally, program information may be made available in languages other than English.
The Franklin County Health Department is an EEO/AA/Title VI/Title IX/Section 504/ADA/ADEA institution in the provision of its education and employment programs and services. All qualified applicants will receive equal consideration for employment without regard to race, color, national origin, religion, sex, pregnancy, marital status, sexual orientation, gender identity, age, physical or mental disability, genetic information, veteran status, and parental status.   
Franklin County Health Department - HIPAA Privacy and Disclosure Statement
If you have questions or comments about services, providing feedback, website content, website layout, reporting broken links please contact the webmaster.