100 Glenns Creek Road
Frankfort, KY 40601
502- 564-7647
Monday – Friday 8:00am – 4:30pm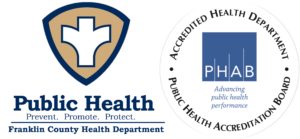 Nuisance Complaints 
Environmental Health personnel conduct investigations on nuisance complaints regarding failing septic systems, rodent and/or vector harborage, garbage disposal, etc.
Complaints are conducted in accordance with KRS 212.210.
What to do if you have a complaint:
Gather necessary information (if available): location of nuisance, name of owner, address, phone, etc. 

The more information you can provide the Environmentalist, the quicker they can respond.

Complete the

Complaint Form (2021) and deliver-in-person/email/fax/mail the complaint to FCHD Environmental Health Team to file the complaint. 
Photographs or any other evidence may be beneficial to the investigation.
Office Location:  851 East West Connector, Frankfort, KY 40601
When using MapQuest, Google Maps, Yahoo Maps, OnStar, Etc:
Use 100 Moore Drive, Frankfort, KY 40601 Then turn Right for FCHD PHC Building 
Office Hours:  8:00am - 9:30am
Phone Number: (502) 564 - 7382
Fax Number: 502-564-5672
Persons with disabilities who require alternative means of communication for program information (e.g. Braille, large print, audiotape, American Sign Language, deaf, hard of hearing or have speech disabilities, etc.), should contact the Franklin County Health Department.  Additionally, program information may be made available in languages other than English.
The Franklin County Health Department is an EEO/AA/Title VI/Title IX/Section 504/ADA/ADEA institution in the provision of its education and employment programs and services. All qualified applicants will receive equal consideration for employment without regard to race, color, national origin, religion, sex, pregnancy, marital status, sexual orientation, gender identity, age, physical or mental disability, genetic information, veteran status, and parental status.   
Franklin County Health Department - HIPAA Privacy and Disclosure Statement
If you have questions or comments about services, providing feedback, website content, website layout, reporting broken links please contact the webmaster.