100 Glenns Creek Road
Frankfort, KY 40601
502- 564-7647
Monday – Friday 8:00am – 4:30pm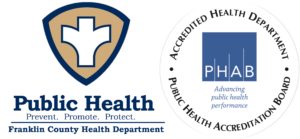 The Franklin County Health Department is soliciting proposals from any party interested in purchasing the Franklin County Home Health Agency.
The home health agency is licensed to serve Franklin County, Kentucky.
Anyone wishing to receive a proposal packet (CLICK HERE) or contact Elizabeth Duckwall at (502) 564-7383 ext. 222.
The deadline to respond to the Request for Proposal (RFP) is 12:00 PM EST June 7, 2021.
Persons with disabilities who require alternative means of communication for program information (e.g. Braille, large print, audiotape, American Sign Language, deaf, hard of hearing or have speech disabilities, etc.), should contact the Franklin County Health Department.  Additionally, program information may be made available in languages other than English.
The Franklin County Health Department is an EEO/AA/Title VI/Title IX/Section 504/ADA/ADEA institution in the provision of its education and employment programs and services. All qualified applicants will receive equal consideration for employment without regard to race, color, national origin, religion, sex, pregnancy, marital status, sexual orientation, gender identity, age, physical or mental disability, genetic information, veteran status, and parental status.   
Franklin County Health Department - HIPAA Privacy and Disclosure Statement
If you have questions or comments about services, providing feedback, website content, website layout, reporting broken links please contact the webmaster.