100 Glenns Creek Road
Frankfort, KY 40601
502- 564-7647
Monday – Friday 8:00am – 4:30pm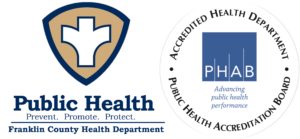 Since COVID-19 began we have drastically changed and improved our services.
All staff members that need access to Health Department files can securely and remotely access our shared drive

All employees that need access to phones use an application called Allworx Reach through our phone provider and it makes cell phones act like desk phones. This allows users to call from a Health Department phone line, access voicemails, transfer calls, and more! 

We started using a web application called Acuity Scheduling to allow users to make and manage COVID-19 Testing and vaccine appointments. This also allowed staff to assist with appointments from those with limited technology. 

Kentucky health departments are required to enter covid vaccine mass events into the Kentucky Immunization Registry (KYIR), preferably within twenty-four hours of the event. In order to meet this goal, FCHD was facing two options. One option would require staff entering data during the event, which would crowd the event site and potentially slow down the vaccine distribution process. Another option would require a group of employees to enter in the data after the event closed, which would require a lot of staff time and would likely be after hours. To avoid both of these issues, FCHD investigated ways to automate some, or all, of the data entry process.

FCHD already uses Acuity Scheduling to collect the required patient data before an event to pre-fill patient encounter forms. Information from Acuity can be exported as a spreadsheet and could be used to populate a mass event in KYIR. Unfortunately, KYIR does not have a method to upload batch data into a mass event using a spreadsheet, nor does it have any means to receive information other than manual entry. To work around this limitation, FCHD created a program to import a spreadsheet from Acuity and automate the manual data entry in KYIR. The program performs the same tasks a human would do when entering data by hand, and it's able to do it much faster and unattended. If the program runs into a problem entering in a patient, the patient is flagged for staff to manually review and enter later.

Utilizing automation has allowed FCHD to avoid requiring staff to enter large amounts of vaccine event data manually and helps ensure the data is entered before the twenty-four hour deadline.
Developing ways to automate StayWell Biometric Screening Program- We now have an online appointment system, provide data entry, and then using Telehealth for counseling sessions. This allows us to see more patients faster onsite, and more staff for remote counseling sessions. 

During the last few months, we have our re-designed website to provide effective and timely information to the community.  We have drastically increased our social media presence on a daily basis to provide community updates. 
When we learned about the need for Contract Tracing and the number of staff in the DOC on a daily basis we realized very quickly that we needed a system that allowed multiple users to edit the 'Line List' at the same time.  Our IT Department developed a program with OnlyOffice and it allowed our staff to login securely in the office and away from the office to access the information in secure and real-time. 
Persons with disabilities who require alternative means of communication for program information (e.g. Braille, large print, audiotape, American Sign Language, deaf, hard of hearing or have speech disabilities, etc.), should contact the Franklin County Health Department.  Additionally, program information may be made available in languages other than English.
The Franklin County Health Department is an EEO/AA/Title VI/Title IX/Section 504/ADA/ADEA institution in the provision of its education and employment programs and services. All qualified applicants will receive equal consideration for employment without regard to race, color, national origin, religion, sex, pregnancy, marital status, sexual orientation, gender identity, age, physical or mental disability, genetic information, veteran status, and parental status.   
Franklin County Health Department - HIPAA Privacy and Disclosure Statement
If you have questions or comments about services, providing feedback, website content, website layout, reporting broken links please contact the webmaster.